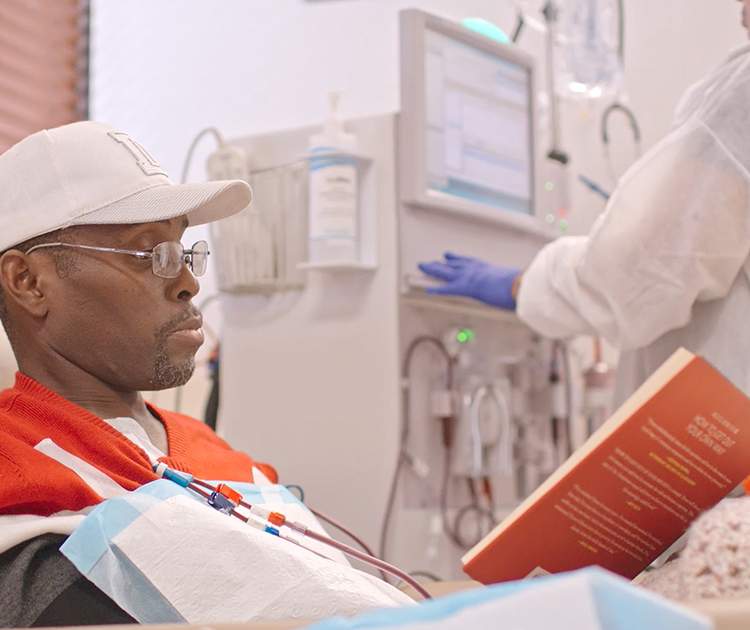 Selecting the Right Dialysis Method & Schedule
January 31, 2018
Print as PDF
If it's not detected in the early stages, kidney damage can lead to kidney failure, causing you to require dialysis. Dialysis is a means to managing kidney disease, where we can use a machine to mimic the function of healthy kidneys. Unfortunately, dialysis is not a cure. If you qualify for a kidney transplant, that is the option we want to encourage. While you wait for a kidney, you may need to get on a dialysis schedule to manage the disease.
There are two types of dialysis, hemodialysis and peritoneal dialysis.
Hemodialysis is a treatment for kidney failure that uses a machine to filter your blood outside your body. At the start of a hemodialysis treatment, a dialysis nurse places two needles into your arm. A pump on the hemodialysis machine draws your blood through one of the needles into a tube, a few ounces at a time. Your blood travels through the tube to the filter, called a dialyzer. Inside the dialyzer, your blood flows through thin fibers that filter out wastes, extra salt, and extra fluid. After the dialyzer filters your blood, a different tube carries your blood back to your body through the second needle. This is usually done 3 days per week for 4-5 hours at a time.
Many of our patients choose to have dialysis at home, which can be much more convenient and allow you more freedom. We recommend Liberty Home Dialysis an at-home dialysis company that will provide a nurse who will come to you and deliver treatment in the privacy and comfort of your own home, at a time that works for you. We recognize that it's not convenient for everyone to come to a dialysis facility three times per week. Liberty Home Dialysis works to remove all barriers to receiving dialysis by bringing the treatment to you. Some of our patients choose to dialyze early in the morning before they start their day and head to work. Some opt to dialyze in the evening, while they spend time with family or watch TV.
We have several dialysis clinic locations around the Dallas-Fort Worth area. Each and every facility we partner with is state-of-the-art and staffed with caring, licensed renal nurses. You can work with a clinic that is most convenient for you to set up a schedule. Unlike at-home dialysis, you may be limited to the clinic's operating hours.
Peritoneal dialysis is an alternative to hemodialysis that utilizes the membrane that lines the peritoneal cavity within your abdomen. With this method, you will have a catheter placed in your abdominal cavity which is used to fill your abdomen with dialysis solution. Once the dialysis solution fills your abdominal cavity, the membrane lining, called the peritoneum, allows wastes and excess fluid to pass from your blood into the dialysis solution. The wastes and excess fluid then leaves your body when the dialysis solution is drained.
There are two methods of peritoneal dialysis. One can be done manually, in a method called Continuous Ambulatory Peritoneal Dialysis (CAPD). The other uses a machine while you sleep, called Continuous Cycling Peritoneal Dialysis (CCPD). Both methods are done 7 days per week, and are performed by the patient following a several week training program. This peritoneal dialysis has comparable risks and benefits. Your kidney doctor will review the treatment options with you to determine the best solution.